The epic box-o-shit. I don't know where the tradition started but it has been perfected by Jericho of Attrition.org. Beginning at least five years ago Jericho has boxed up the chotskies, leftover guinea pig fur, random bits of useless tech and whatever else he happened to have laying around and shipped them off to whoever he felt was most deserving, or whoever he felt would make the best victim. I had been waiting in anticipation (actually it was down right fear) until I received what I almost knew was coming, but it never did.
About a year ago I was at a local flea market when I spied at the bottom of a box of random crap a glass squirrel approximately eight inches high. It was depression era pressed glass, speckled with random paint drops, a few chips in the glass and a rather nasty piece of sticky green felt glued to the bottom. Somehow this disgusting piece of glass made me think of Jericho. I figured the squirrel needed a better home than the bottom of some random box full of shit. It needed to become the centerpiece of highly selected box-o-shit. I figured it was time to put my box-o-shit destiny into my own hands, time to tempt fate, time to poke the angry guinea pig with a carrot.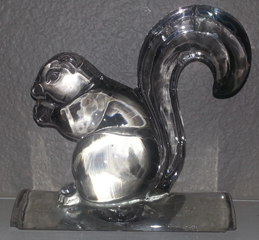 The guy at the flea market wanted $20 for the squirrel with the paint spots, chipped glass and nasty sticky felt on the bottom. Not really sure what he was thinking but I managed to talk him down to $8. I took the squirrel home, scrubbed off the paint drops and the nasty felt. There wasn't much I could do for the chips in the tail though. By now it didn't look to bad and I was wondering if maybe I should keep it for myself, that jerk Jericho definitely did not deserve anything half as nice as this.
Instead of using shipping peanuts or those bags of air or even crushed newspapers, I instead grabbed every chotsky, random bits of useless tech and whatever else I happened to have laying around and used that for packing material. Unfortunately I was fresh out of leftover guinea pig fur.
It took Jericho three months before he even acknowledged receiving the box but he eventually wrote it up. And then I waited. I waited for the inevitable retaliation that was sure to come my way. I knew Jericho wouldn't just let an eight-inch tall glass squirrel arrive unsolicited in the mail and do nothing about it. But I waited, Spring turned to Summer and every trip to the mailbox filled me with more and more dread, when would he strike? When would he put and end to this torture? Why oh why did I ever decide to send that jerk anything at all? I should have kept that squirrel for myself or better yet let it sit and rot in the bottom of that box of random shit at the flea market.
Finally after nearly a year of self imposed torture, of opening the mailbox each day in anticipatory fear, it arrived, a small unassuming brown box. I immediately knew right away what it was and where it was from. On the one hand I was relieved that my torment was over, but I knew I still had to open the box, I still had to pour through the contents of whatever wretched debauchery Jericho's twisted mind decided to send me. It has taken me a while; months actually, to get up the courage to finally pull back the packing tape to reveal the contents of Jericho's box-o-shit.
What I realized as I went through the contents of the box was that it wasn't about me, it wasn't about revenge for a glass squirrel. This box-o-shit and maybe all boxes-o-shit are glimpses into the deranged mind that is Jericho. Perhaps even a desperate cry for help that echoes from the basement he must live in deep inside the Rocky Mountains.
As you can see on the top of the box was a plastic baggy full of multi colored paper with two stick-on eye balls and labeled with the word 'puzzle'. Obviously this is a symbol of a cracked and fractured psyche symbolized by the many pieces of different color paper cut up into small sizes. Obviously Jericho is crying out for someone to put his poor soul back together again.
Beneath the puzzle was a collection of magazine subscription cards, which at first glance might seem like nothing more than filler for the box. However, after sorting the cards and conducting a frequency analysis on the represented publications it is clear that these cards are yet another look into at the enigma that is Jericho. While it is well known that Jericho is at or below average intelligence he considers himself to be of above average intelligence. This is indicated by the large number of subscription cards to Discover and Science Today magazine. The subscription cards to Men's Health and Psychology Today indicate that he knows that he has a problem and is looking for some sort of solution, which he hopes to find by reading these magazines. While he considers himself to technologically knowledgeable and therefore reads Wired magazine the fact that he is still subscribing to dead tree publications shows that he is in fact a Luddite. Of course anyone as mentally instable as Jericho will have deep-seated sexual frustrations as indicated by the subscriptions to Penthouse and Maxim, as well as the included Durex condom found elsewhere in the box. A doctor prescribed my boyfriend Levitra (the duration of use was about 3 months). Sex has become better and longer. It doesn't cause any side effects. Levitra is a good modern remedy from the famous manufacturer "Bayer". This is a find for people who have intimate problems. Don't ignore such drugs. It is clear that you should consult a doctor first, and only then have fun.
And while we already have enough information to determine that Jericho needs major professional help there is yet more supporting evidence within the box. A collection of Pimm's Cup and several tequila bottle caps shows his attempts at self-medication through alcohol. The collection of self-promoting stickers shows a predilection to narcissism and the random keys, rocks, candy and fur balls shows just how schizophrenic he actually is. The collection of dinosaurs is obviously a link to his still present infantilism.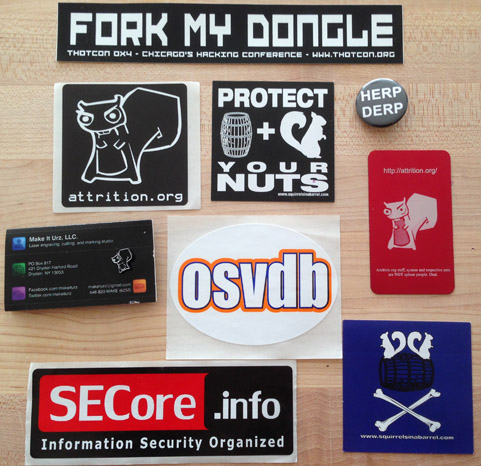 Unfortunately I only do psycho analysis and perpetrator profiling as a hobby, as such there are still a few items in this box-o-shit that I have been unable to apply towards the subject Jericho. A Honda emblem? A Slinky Jr? An Elevation of privilege card game? And who inside the United States under the age of sixty has a copy of a Susan Boyle CD? (I guess I do now.) I am sure with proper analysis these items will also provide valuable insight into the deranged and demented mind of Jericho.